Here's your weekend list! As you'd guess there are lots of egg hunts and Easter events this weekend. But we also found Earth Day celebrations, free movies, fun library events, and much more! We've included some egg hunts on this list, but to see ALL of them just go  here to our master guide!
Saturday 
All Over
Kids' Club at Michael's Stores 
Storytime at Barnes and Noble stores
South King County
Bunny Patch at Thomasson Family Farm Enumclaw 9am-2pm.
Ongoing egg hunt, playground activities, tractor train rides, Easter bunny, face painting, farm animals and crafts (while supplies last)!!! This is a ticketed event. See link for details. There is a discount for advance, online purchase. Readers have liked this one a lot, especially for younger children.
Easter Egg Hunt at Kent Station
Traditional egg hunt for ages 6 and under; scavenger hunt for ages 7-12
Also face painting and photo ops. with the Easter Bunny
The Hop! A Family Easter Event in Auburn
THEHOPAUBURN.COM REVIVE is so excited to host The Hop an ALL family Easter Egg Party! Bring your whole family to enjoy this FREE all community event! 20,000 Eggs DROPPED BY A HELICOPTER!! Inflatables Petting Zoo Live Music Food Games Activities Shopping and so much more! We will have multiple egg hunts for different age groups so everyone can have fun! The Hop would not be the same with out you so bring the entire family! Found on fb
Free World Circus Day at Synapse Circus Center
Join Us in Celebrating WORLD CIRCUS DAY!
FREE Classes for children ages 2 to 16 years starting every 15 minutes from 1pm-3pm. We will be doing aerial, tumbling, tightwire, and juggling!
We didn't forget the Adults! Adult Intro to Aerial Class or Acrobalance class at 3pm and 5pm. Reserve your spot for FREE! Found on fb
STEM Saturday at the Federal Way Library
Puyallup/South Hill/Orting/Greater Pierce
Hunts at different times for children 0-10, plus face painting, crafts, pics with the bunny, and other fun. Be sure to check the link for the times and don't be late.
A fun, spring themed carnival and egg hunt! The Spring Eggstravaganza will be held Saturday, April 20th at the Puyallup Recreation Center from 10am-12pm. This event features three egg hunts for specific age groups and carnival games! Get your candy, prizes, and pictures with the Bunny! Note from SFM: I believe some of the activities are cash only, so keep that in mind.
Traditional egg hunt for ages  6 and under and a scavenger hunt for ages 7 to 12. Plus ongoing activities including bunny photos (bring your own camera), petting zoo, face painting, and other fun 3-5pm
Easter Bash at the South Hill Mall
Free Easter fun includes egg hunts, crafts, face painting, balloon animals, giveaways and more! Registration starts at 11am
Edgemont Park, Edgewood The annual Edgewood Easter Egg Hunt, sponsored by East Pierce Firefighters
starts at 10 a.m. at Edgemont Park, located adjacent to Edgemont Junior High School at 24th Street East and 110th Avenue East.
Opening day of the Puyallup Farmer's Market
Easter Bash at the South Hill Mall
Saturday, April 20: 11:00am – 3:00pm
Use Lego bricks, Straws & Connectors, blocks and more to construct fabulous contraptions. Creative fun for the whole family. Age 6 and under must be accompanied by an adult.
Tacoma/South Tacoma/Lakewood/Parkland
Free Family Flick at The Grand
Tacoma-Pierce County Health Department is hosting a special event for new mothers-to-be on Saturday morning on April 20, 2019! There will be food, games, door prizes and giveaways. Sea Mar staff will also be present to answer any questions about Sea Mar programs and services.
Critters, Crafts, and Bunny, "Tails," at Tacoma Lutheran
petting zoo and egg hunt!
Family nature walk at Oak Tree Park 
10AM Advance registration is now required for these popular, free nature walks Not suitable for strollers; perfect for ages 3 and up.
Spring Fling at the Eastside Community Center
Celebrate the arrival of spring at this free community festival. Enjoy a variety of themed arts and crafts, games, and family activities. 10am-12 Bring swimsuits and hop in the pool for a free open swim from 11 am-12 pm!
New Community Church, Wright Park and Jane Clark Park, Tacoma egg hunts
Free event for ages 0-11 with egg hunts, face painting, and bouncy castles Both parks will have a hunt for children with special needs. 10am-11:30
Fircrest Park, Tacoma egg hunt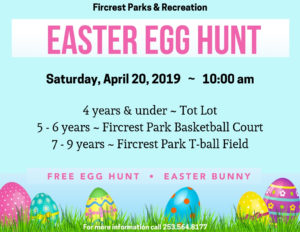 The Fircrest Annual Easter Egg Hunt happens on Saturday, April 20 at 10 am.
4 years & under ~ Tot Lot
5 – 6 years ~ Fircrest Park Basketball Court
7 – 9 years ~ Fircrest Park T-ball Field
Cost is FREE.
Located at Sound Life Church features huge egg hunts for toddlers through age 12, inflatables, face painting, special guests, pony rides (7.oo), and more! You're encouraged to arrive early for good parking
Pierce County Parks and Rec Egg Hunt in University Place at Chambers Creek
It's time to celebrate the earth at the Tacoma Nature Center during this free family event!
• Play fun conservation games with Tacoma Water and Tacoma Power!
• Create earth friendly crafts with Tahoma Audubon and Metro Arts!
• Build a wooden planter box and plant seeds with the Tacoma-Olympia Hoo Hoo Club!
• Take a naturalist led nature hike and learn how to record your observations on iNaturalist!
• Try the Agents of Discovery app, special Earth Day Mission!
• Take a Story Walk!
• Explore ways to help the earth from Fix it Fairs, Mason Bee House Builders, Imperfect Produce & more!
Drop in any time during the event as you learn about community science and conservation. Make sure you give yourself enough time to do it all! Free. Donations to Tacoma Nature Center welcome. Recommended for ages 4 and up. Help the earth! Please carpool, bus, bike, or walk. Parking is limited.
at Parkland/Spanaway – Parkland/Spanaway Meeting Room  2-3pm
Join Luna and her magic flute as she embarks on a magical adventure with friends pony, dolphin, hummingbird – and dragon! Best for children ages 5-10 and their families.
Lacey/Olympia/Dupont 
Tumwater Library Arbor Day Event
Celebrate Arbor Day at the library. The City of Tumwater will give away free tree seedlings and other Arbor Day memorabilia while supplies last. 10am
Visit the LOTT Wet Science Center and celebrate Earth Day.
Visit the South Sound Estuarium interactive marine discovery! Open 11-4 weekends at their new location.
Tumwater 20th Annual Easter Egg Dash
Over 20,000 colorful eggs are nestled in the large grassy area behind the stadium at Tumwater High School, just waiting to be discovered. Free event for ages 0-10.
O Bee Credit Union Egg Dash in Lacey
This FREE event takes place at the Regional Athletic Complex (RAC) in Lacey and offers kids 2-10 the opportunity to "dash" for candy and prizes hidden in over 18,000 plastic eggs.
Children ages 2-3 and any children needing special assistance will begin promptly at 11 A.M., with 4-5 year olds, 6-7 year olds, and 8-10 year olds following in close succession. Parents: to avoid a disappointed child, plan on arriving early to find parking.
Share a book with a furry friend while improving your reading skills.
We have linked to some egg hunts in this post, but there are many more on our master list.
Gig Harbor
Spring and Easter mini wood signs and Easter totes at AR workshop
Hop on over to AR Workshop for some Spring and Easter Crafternoon fun with the family! Make a Canvas Easter Egg Tote or our specialty Mini Wood Signs! (One registrant can make 1 mini wood sign for $15, or 2 for $25).
(Totally kid friendly! Perfect for ages 7 and up. Younger children can do this with mom and dad's close help) REGISTRATION REQUIRED to guarantee your spot and allow us time to prepare your design!
**This special event is not eligible for promotions or coupons. Found on fb
Learn about the power of air by flying kites, building balloon-powered cars and creating art. 11am
Sehmel Homestead Park, Gig Harbor egg hunt
Egg hunts are divided into small age groups for children up to 5th grade. Families will have the chance to visit with the Easter Bunny and enjoy other spring activities.Suggested donation of 2.00/child
Nichols Community Center, Fox Island
Free Easter Egg Hunt for Fox Island residents' kiddos
Key Peninsula Civic Center
Traditionally, there is a hunt hosted by the Boy Scouts on the Key Peninsula Civic Center grounds at noon on Saturday.
Sunday
South King County-Covington, Edgewood
Rocketry Workshop at the Renton Highlands Library
Pierce County
Meet Mik and the Beanstalk. Mik is a Certified Arborist happy to share his knowledge of the trees of Point Defiance with you; and the Beanstalk is a 186-foot Pseudotsuga menziesii, a.k.a. Douglas-fir, located a stone's throw away from Fort Nisqually.
Ideal for kids, older folks and people with mobility issues, the event will include activities around the Fort Nisqually Picnic Shelter and the Beanstalk nearby.
Less than 500′ of walking required.
Time: 9-10 am
Fee: $4 per person
To Register: SIGN UP ONLINE or call (253) 305-1022
Olympia
Eagles Egg Hunt at Priest Point Park Olympia
Date: Sunday, April 21, 2019 at 7 AM – 2 PM
We have linked to some egg hunts in this post, but there are many more on our master list.
As always, if you need a hand, or know something fun we should add, get in touch! We also super appreciate when you mention Sounds Fun Mom to your favorite local businesses and groups. We exist because of awesome sponsors and readers!