Updated 2/6/2018
Guys!  Great Wolf Lodge is back on Groupon with dates into April.
 and today only, you can get an extra 10% off, making this close to the lowest price I've seen.
One night stays are as low as 139.00, and a family suite for a two night stay is as low as 119.00 a night. Plus, right now if you use code SALE3 you can take off another 10%..
They do tack on some resort fees when you stay, but that is still a really good deal for this spot, and your room always comes with passes to use the waterpark.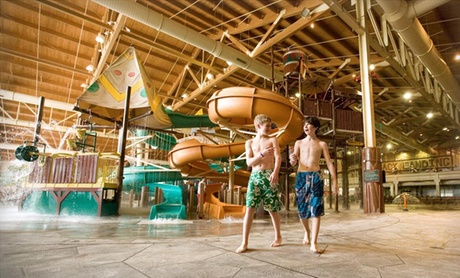 You might also want to try a fancier suite. Those start at just 199.00 before the code, and we have clever readers who have made those deals even sweeter in the past by going with family and friends since these suites have room for six to eight (read the descriptions carefully when you choose).
There are dates into April. I do only see weekdays, including some during school vacation times, though those dates cost more.
As always, read the fine print carefully and remember to make sure it's the best deal for You. Also note that members of the military and first responders may be better off using code HEROES, which should take 20% off the best available rate anytime.
Don't forget when you stay one night you can use the waterpark for two days! For more tips on Great Wolf Lodge going, you'll want to read my post on Great Wolf for newbies here. It's a super old one (from the first month of the site!)  but I think it's still got some good tips.
And I'm just going to acknowledge that this place had an issue with bed bugs.  I only see positive reviews recently, but you may want to read about it on their fb page. and decide whether you're comfortable with a stay here.
If you'd just like to swim in a fun pool for a few bucks instead of a couple hundred, I have a list of South Sound pools with waterpark style features here.
Disclosure: When you use make purchases through affiliate links on this site, we receive a very small commission. It does Not affect your cost. We do appreciate you using them, but only if a deal is a great one for you! As always, read the fine print.