Safe Indoor and Business District Trick or Treating Tacoma, Puyallup, Kent, Fife, Sumner, Auburn, Gig Harbor, Olympia
South Sound Halloween Trick or Treating Guide
UPDATED FOR 2018! 
Looking for a safe place to take the kids trick or treating around the South Sound?
Here's our complete guide to business district, mall, and church trick or treating events in the South Puget Sound on Halloween.
Note that we have a separate round up with carnivals, trunk or treats, harvest fests and other fun before Halloween.
We do ask that you confirm details before you head out. While we strive for 100% accuracy, in lists of this size, mistakes can happen. We appreciate you using the links we provide to check!  Thank you! 
South King County
In collaboration with the Greater Maple Valley Community Center.
A family-friendly evening for trick-or-treating! Dress in costume and stop by each of the super cool trucks and vehicles at Truck-or-Treat with your candy bag. Ticketed event
Looking for a place to go on Halloween? We invite you to join us for our Lego Star Wars themed Harvest Festival! This FREE, all ages event includes game booths, face painting, balloon animals, Roberto the Magnificent, live music, Lego Lounge, food trucks (food for purchase), free raffles & giveaways, Lego Build-off contest, teen video game tourney and over 100,000 pieces of candy to give away! Wear your best costume and come ready to have a blast!
For more details and to pre-register for the Lego Build-off go to our website at http://nwcfoursquare.org/harvestfest
Date: Wednesday, October 31
Bring your little pumpkins, princesses, super heroes and ninjas for a fun evening of trick-or-treating and a costume contest
​*Trick-or-treat all around Kent Station at participating businesses from 4:30 – 7pm (while candy lasts…)
​*Costume contest on the stage next to Coldstone Creamery from 4:30 – 6:30pm. Prizes announced starting around 6:45 (must be present to win) *Click here for the Facebook event
Date: Wednesday, October 31, 4:30PM-7:00PM
This free event is for trick or treaters 12 and under. Masks/face coverage not permitted for anyone over 12. Please leave weapon-like costume accessories in your vehicle or at home.
Date: Wednesday, October 31, 5:00PM-7:00PM
Calling all Goblins,Ghosts and Creatures of the Night!!! Creep,float or crawl over to The Outlet Collection OCT 31st 3pm-5pm! Check in at our KidX booth and pick up your "Trick or Treat" map. Check in begins at 2:45pm. Trick or Treating at participating retailers is from 3-5pm ONLY*.While Supplies Last. Check back soon for more details! Check in by the Nordstrom Rack.
Date: Wednesday, October 31, 3:00PM-5:00PM
Greater Pierce County -Puyallup/Sumner/Bonney Lake/Fife
Tricks, treats and treasures await your whole family at the annual Fife Police Department Halloween Carnival. Free flashlights, goody bags and more for every little pumpkin. Free admission with one can of non-perishable food.
Date: Wednesday, October 31, 2018 @ 5:00 pm – 7:00 pm
New Horizon Church Fife Trunk or Treat
Date: Wednesday, October 31 6:30PM
Calvary Community Church, Sumner
Dress up your kiddos (and yourself) and join us for candy, games, inflatables, petting zoo, and so much more all for free!!
Date: Wednesday, October 31, 5:00PM-8:00PM
Annual event downtown. Traditionally Main Street has been closed to allow safe trick or treating at participating businesses.
Date: Wednesday, October 31 4-7
Coming up on October 31st, we will have our annual Cobweb Carnival event! This is a fun and safe event for kids and families to come together to enjoy community, games and a whole lot of candy! The times and locations are as follows:
North: Pioneer Pavilion 3-6pm
South: South Campus 3-6pm
West: Washington Elementary 3-6pm
East: The Kelley Farm 3-6pm
Date: Wednesday, October 31
Halloween in Downtown BOOallup
Bring the kids downtown for a safe and secure trick-or-treating experience!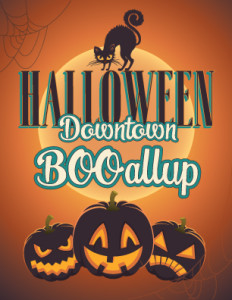 Loads of our downtown businesses will be handing out treats for all the little ghosts and ghouls from 3 – 6 pm. We will post a map of all participating businesses for your convenience.
Be sure to catch Elite School of Dance's "Thriller" performance in Pioneer Park at 3:45 pm.
The City of Puyallup's Parks & Recs department is hosting their annual Cobweb Carnival inside the Pioneer Park Pavilion! 3-6:00 pm, FREE to attend!
Date: Wednesday, October 31 3-6
Fall Festival at Silver Creek Retirement and Assisted Living
Silver Creek has traditionally hosted safe trick or treating. We're still checking on this for 2018.
Note from SFM: This is an annual event hosted by East Pointe Church , but I don't see an update for 2018 yet. 
If you're looking for suggested neighborhoods, any of the large developments in the area should be good and typically have sidewalks and lots of folks out and about.
Tacoma
Visit the Shops at Point Ruston for Halloween Treats!
Wednesday, October 31st, 4pm – 7pm
Family friendly all ages event!
Details
No need to pay or validate parking between 4 – 7pm.
Parking is always free for customers at Point Ruston!
The Grand Loop will be closed for fun & safety between 4 – 7pm.
Tacoma Lutheran invites community children to trick or treat.
Sure to put a smile on your kids' face (and yours too since it's free), Trunk or Treat is designed to be a safe alternative for your kids to get their "trick-or-treat" on!
+Decorated Cars
+Games
+Selfie backdrops
+Inflatables
+Prizes
+Cotton Candy
+Popcorn
+Balloon animals
+and more!
Please keep the littlest kids in mind when dressing up by leaving the scary costumes and fake weapons at home!
Date: Wednesday, October 31, 2018 6-7:30
Bring your li'l ghouls and goblins over to Hilltop's old KeyBank building on Halloween night (6-8PM) for Tacoma Community House's Trunk-or-Treat! This spooktastic event is FREE for children and their families and will have lots of fun costumes, car decorations, and CANDY! 🎃
💬 See flyer in English, Spanish, Russian, Vietnamese, Tagalog, Thai, and Khmer: http://www.tacomacommunityhouse.org/trunk-or-treat-2018/
Date: Wednesday, October 31, 6-8PM
Join us for Fall Fun Festival! At F3, there are activities for children in Grades K-6th, with fun the whole family can enjoy! There will be games, crafts, fun, and of course, candy! Save the date – F3 is October 31st! Doors are open from 6-8 p.m. Game and skit rotations will be ongoing during those hours. This is a FREE event!
Date: Wednesday, October 31st
Trick or Treating at Tacoma Mall
TBA
Get your treats from participating merchants in the Proctor Business District. This is a fun atmosphere with closed streets!
Date: Wednesday, October 31, 4:00pm-6:00pm 
One downside in this very cool neighborhood is parking, so try to work out some public transportation or a carpool! 
Trick or Treating on Garfield Street
In past years, Garfield St. businesses have provided treats from 4-6, and there has been trick or treating in the halls at PLU from 6-8. I haven't been able to find up to date info. for 2018.
Trick or Treating Stadium
Traditionally, Stadium area businesses offer trick or treating. I haven't been able to find up to date info. for 2018.
If you're looking for suggested neighborhoods, Fircrest and the greater Stadium area are popular with readers.
Olympia
Bring your kids to downtown Olympia Halloween 3-6pm, visiting businesses to collect FREE treats and take part in a treasure hunt! Each business will have a scary hair item hidden somewhere in the store. When you locate it, you will be given an entry for the grand prize drawings of treasure chests full of items and coupons from local merchants. Bring the entry from each store to Archibald Sisters, 406 Capitol Way S. before 6:15pm to be entered in the drawing!
The more locations you visit, the more chances you will have to win.
Date: Wednesday, October 31
Trick – Or – Treat at Capital Mall this year.
Kids 12 and under are invited to join us for safe and dry Trick-or-Treating at participating mall retailers (while supplies last).
Date: Wednesday, October 31st 5-7pm
Gig Harbor
Giant Pumpkin Carving by Master Pumpkin Carver, Russ Leno, October 29th
Trick or Treat at participating shops from 4-6pm October 31st
Date: Wednesday, October 31st 4-6PM
The Gig Harbor Downtown Waterfront Alliance proudly presents "Trick or Treat in the Harbor" from 3pm – 6pm on Halloween, Wednesday, October 31.  To provide a safe area for trick or treating, Harborview Drive will be closed from 2:00pm – 6pm from Soundview Drive to Rosedale Street, and Pioneer Way will be closed from Harborview Drive to Tarabochia Street.
"Many of the downtown waterfront businesses, including Finholm, will be open and have candy available for trick or treaters," according to Mary DesMarais, Executive Director of the Alliance.  "Their generosity towards our local community is something very special, especially when you consider they've been doing this for so many years."
Numerous activities will be taking place in the area to go along with all the trick or treating:
At the Skansie House, Harbor WildWatch will be offering a "Spooky Skulls Tour"
Nearby, kids will find Gig Harbor Fire and Medic One on Harborview for a close-up look and an opportunity to meet emergency responders!
Harbor Dance will be on hand in the late afternoon in front of Skansie Brothers Park to put on a
"spook-tacularly thrilling" dance number (4:30 and 5:00pm)
The Gig Harbor Church of the Nazarene will offer their "Trunk or Treat and Carnival" event.
Paradise Theatre will open their haunted house for the kids from 4pm – 6pm. Free admission and they promise, "no scares." (located on Judson Street in the space previously occupied by Ace Hardware).
Date: Wednesday, October 31 3-6PM
::
If you're looking for additional ideas for what to do with your kiddos on or before Halloween, be sure to check back for our post on South Sound Halloween and Harvest Fest for Families , most of which are the weekend before Halloween. We are furiously updating that as of this writing!
Just finding us? I hope you take a sec to join us on Facebook, subscribe to our weekly newsletter or find us on your other favorite social media!